Sunday should have been a day of celebration in Haiti. It marked the 35th anniversary of the fall of the Duvalier dictatorship, and the last day in office of the despised President Jovenel Moïse. Instead, it was another day from hell.
Rather than leave office, Mr. Moïse claimed that he had foiled a coup. He sent troops in the middle of the night to round up a judge, a senior police officer and more than 20 others. The fragmented opposition, in the meantime, compounded the crisis by installing two presidents — a Supreme Court judge who had been fired by Mr. Moïse and a lawyer in Haiti's north.
For the long-suffering Haitians, the power struggle promised only more bloodshed and chaos. They have already been battered by recent hurricanes, an earthquake and a cholera epidemic introduced, in a cruel irony, by United Nations peacekeeping forces. Few countries have endured so much, and no others that lie within a few hundred miles of the richest nation on earth.
A plane arrived from the United States on Monday. But instead of help or hope, it carried several dozen Haitians, including a 2-month-old and 21 other children, deported by U.S. Immigration and Customs Enforcement. President Biden had ordered a 100-day moratorium on such deportations, but a Texas judge temporarily blocked the order, prompting the agency to defy the administration's wishes and accelerate deportations. More such flights to Haiti are expected through the week.
Haiti, the poorest country in the Western Hemisphere, has not had much respite from corruption and chaos in the 35 years since democracy was restored. But Mr. Moïse is widely blamed for making lives that were already very difficult, especially during the Covid-19 pandemic, even worse through rampant plunder and mismanagement.
Months of often violent protests against Mr. Moïse have repeatedly brought life in the capital, Port-au-Prince, and other cities and towns to a halt. Fuel shortages are routine, hospitals have cut services or have closed, public transportation has ground to a halt, and businesses have shuttered. The rapid spread of kidnapping for ransom by well-organized gangs has forced schools to close for fear of students and teachers being captured.
The constitutional crisis has centered on a dispute over when Mr. Moïse's term should end. The constitutional term is five years, and Mr. Moïse was elected in 2016 and should have been installed in February 2016. But election monitors deemed that election too corrupt to stand, and a caretaker government remained in office until another election was held a year later. It was hardly fairer, but Mr. Moïse took office on Feb. 7, 2017. He insists that his five years expire in 2022.
The reality is that Mr. Moïse has effectively lost all popular support and abandoned any pretense of democratic rule. He has ruled by decree since last year, when he suspended two-thirds of the Senate, the entire lower chamber and every mayor across Haiti. He has refused to hold any elections for four years, so there are only 11 elected representatives in office for 11 million people. He is seeking to expand his powers through a referendum on the Constitution set for April.
SUITE dans le lien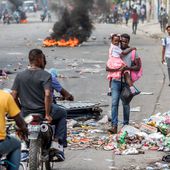 Opinion | Haiti Needs Help. This Is What the U.S. Sends Instead.
Our neighbor is in a constitutional crisis, and instead of carrying aid, planes arrived with deportees. The editorial board is a group of opinion journalists whose views are informed by expertise ...
https://www.nytimes.com/2021/02/10/opinion/haiti-us-deportations.html