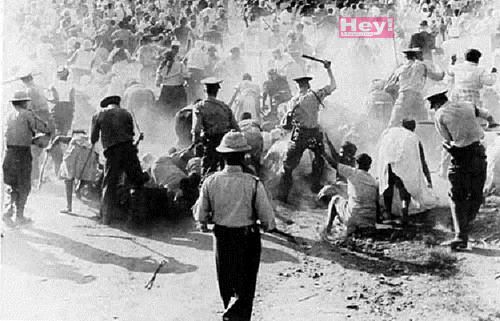 Massacre des Haïtiens en RD
"Out of the swamp the cane appears
to haunt us, and we cut it down. El General 
searches for a word; he is all the world 
there is. Like a parrot imitating spring,
we lie down screaming as rain punches through 
and we come up green. We cannot speak an R—
out of the swamp, the cane appears
There is a parrot imitating spring.
El General has found his word: perejil.
Who says it, lives. He laughs, teeth shining 
out of the swamp. The cane appears
in our dreams, lashed by wind and streaming. 
And we lie down. For every drop of blood 
there is a parrot imitating spring.
Out of the swamp the cane appears.
The word the general's chosen is parsley. 
The general sees the fields of sugar 
cane, lashed by rain and streaming. 
He sees his mother's smile, the teeth 
gnawed to arrowheads. He hears 
the Haitians sing without R's
as they swing the great machetes: 
He will order many, this time, to be killed
for a single, beautiful word... " -
[Segments from 'Parsley' - Rita Dove]

If you disagree with the DR court ruling, boycott DR tourism
"It was convenient for decades to import Haitians to cut sugar
cane and build roads and fancy hotels,
and even their new subway system," Jocelyn McCalla  said,
"but now they don't care about the children of those workers."  
Meanwhile, McCalla suggests "tourism should be targeted."
If thousands of American tourists suddenly started boycotting idyllic Dominican resorts like Puerto Plata and Punta Cana, they'd get the message down there that racism is bad for business."  
Read more:

The Dominican government estimates that hundreds
of thousands of Haitian immigrants enter their country
illegally each year – with concerns that the number
is increasing dramatically since January's devastating earthquake
At the same time, the Dominican economy depends on cheap,
ill-treated – Haitian labor to fuel the sugar, tourist, and construction industries.
Haitians and Haitian descendents who live in
the Dominican Republic often talk about severe racism
and mistreatment; Dominicans talk about how Haitians
take jobs and tap already strained public resources.
"If you have no country, nobody is providing you services
and nobody is protecting your rights."

Altagracia Jean Joseph was born in the Dominican Republic
and has a Dominican birth certificate and national ID.
But for three years now, authorities have refused to give
her the copy of her birth certificate that she needs to attend university.
They told her that her last name is 'weird' (code for 'Haitian').
She now exists in legal limbo, lacking official citizenship, deprived of fundamental civil, political, economic, cultural, and social rights.
"The fear of the Dominican Republic, of being pulled down
to the level of Haiti economically and the 'blackening'
of the country, has been an obsession of Dominican politicians
for well over a century."
David Abraham, Law professor-University of Miami